Tools and Tips for Parent-Led Learning at Home
The Most Important Lesson of All: You Can Do This
No one could have predicted the challenges we face this year, but we're hopeful that joining our homeschool community will be a positive change for your family. We're honored to be your homeschool partner and are here to help, starting with these resources that will set you up for success. Welcome!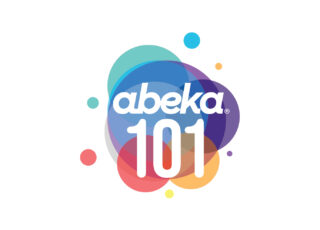 Getting Started with Parent-Led Approach
Click here, sign into your account, and then select DASHBOARD. 
The dashboard enables you to:
  • Get notification on news and updates.
  • Check order details and progress.
  • Use the free customizable calendar. 
  • Access purchased streaming video lessons, clip art or teaching aids.
  • For streaming video lessons, you can assign lessons by choosing permissions and also keep track of hours used.
These easy-to-use guides are your roadmap to success, allowing you to focus on how to teach instead of what or when. They'll save you hours each week, keep you and your child on track and help to prevent learning gaps throughout the year and from grade to grade.

Lesson plans include:
   • Suggestions for what to teach when
   • Suggested timing for quizzes and tests
   • Teaching tips
   • Grading info
   • Suggestions for when and how to use teaching aids

  • Engagement activities
  • Learning games

  • Extra thinking/discussion questions
   • Step-by-step instructions for teaching compositions, including research papers

Read and follow your state's requirements.

To find out what your state asks for, go to the Homeschool Legal Defense Association.
This will save you from doing extra work—or not enough. For example, some states require an attendance record and quarterly progress reports.
Gather your supplies.
Get a large 3-ring binder, page dividers, and page protectors. You can also use an accordion file or file folders, but 3-ring binders are the most popular choice. How many page protectors do you need? That's up to you! Some moms put each page in a page protector. Others only use page protectors for pages that can't be hole-punched to fit in the binder.
Decorate the cover.
Include your child's name, academic year, and grade. You can keep it simple or go all out with decorative tape, pictures, etc. For a fun, extra-personal touch, have your kids decorate their own covers.
Add the first pages.
First, include a list of textbooks/curriculum used. 
Then, include other pages based on what your state requires and your preference:
   •List of all books read
   •Quarterly progress reports/report card
   •Attendance record
   •Memory work (arithmetic facts, poems, etc.)
   •Calendar of field trips and other educational activities
Some parents also include an informal transcript briefly explaining what's been covered in each subject. If you'll be including that, your curriculum's scope and sequence would be a good resource.
Add optional pages.
Do you choose to do special weekly or monthly worksheets you've made yourself or found online? Add them here.
Write each subject on page-divider tabs.
For each subject, include tests, quizzes and other examples of your child's work (essays, worksheets, pictures from science projects, etc). 
Since it's important to show progress, put these in chronological order.
Include example art projects. 
For larger projects, include a picture instead of the project itself. You can also group several projects together, take a picture, and include that picture instead of bulking up the portfolio with more than a few art projects.
Include extracurriculars.
Was your child in a play? Did he do sports or music? Include pictures, playbills, and accomplishments.
Once you're done, you'll have an educational portfolio. Many states that require portfolios also require that you keep them for two years after the evaluation. Of course, you'll probably want to keep them long after that!
Stagger start times.

There are a lot of options when it comes to staggering start times and school work throughout the day. For example, let's say you have a sixth-grader and a kindergartener. Once your sixth-grader is up for the day, try having him or her get started with independent reading and a worksheet/assignment while you begin working with your youngest. Pre-plan how long that window will be for – maybe an hour or so. Then, once you're done working with your youngest, you can set him or her up with a snack and a break while you work through more challenging subject areas with your sixth-grader. 
Get the right table and the right setup.
Some parents who have the available space say that it can be helpful to separate their kids into different rooms with their own work spaces in order to avoid them distracting each other. Other moms, who need to be present for lessons or questions (or just supervision), have had success with finding the right style of table and keeping everyone together in one room. 
 Video lessons can be a game-changer.
You know your kids. If one of them does well independently and you think video lessons could be a good fit, Abeka Academy can help guide the way and lighten the load. Whether you want a single subject or a full year enrollment, experienced Christian educators are there to lead the lessons in a real classroom environment. Here's a helpful blog to learn more about how you can customize our video lessons to your needs. 
Headphones help.
If you have both kids in the same room, headphones can be a great addition. While you're helping one child through their lesson, the other can have their headphones on to drown out the background noise, listen to video lessons, or even listen to music. If they choose music, we suggest music without words in order to avoid distractions. 
Set a timer.
Kids thrive with structure. If each of your kids has a clear expectation for how much time their lessons are allotted, they can adapt to that. Set an hour timer per subject, and allow them to work independently. Your kids might even enjoy the idea of beating the timer and having some extra free time. An internal timer may work just as well! If they know all their school work needs to be completed by 3 p.m., it's their job to make sure they are diligent in their work in order to meet that goal. 
Create incentives and enforce the rules.
If you lay out the expectations up front, as well as the consequences for not meeting those expectations, you can set good school time habits in no time. Every day will not go as planned, but that's ok. If your kids understand the rules and consequences, they will be ok. If one of your kids was slacking off and didn't get their work done by 3 p.m. as you'd asked, they will need to stay in to finish up while the other kids get to go out to play. It won't take many of those days before they realize that's no fun. 
Helpful Resources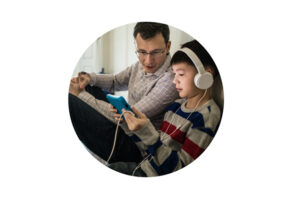 Q&A
Find answers to commonly asked questions.
YES, PLEASE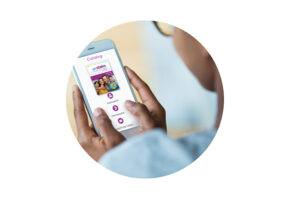 Digital Catalog
Ordering made easy with grade-by-grade options.
START SHOPPING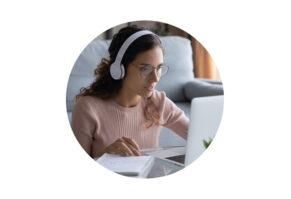 Online Events
A variety of helpful topics and exclusive savings.
JOIN US